As you embark on a journey of exploration, Lufthansa proudly presents flights to Porto, Portugal, opening the doors to a world of captivating beauty and unforgettable adventures. Nestled along the Douro River, Porto enchants visitors with its unique blend of old-world charm and contemporary appeal.
Immerse yourself in Porto's architecture as ancient buildings coexist harmoniously with modern designs. Lose yourself in the maze-like streets of the UNESCO World Heritage-listed historic centre adorned with vibrant houses and intricate tiles. Marvel at iconic landmarks like the Dom Luís I Bridge, offering breathtaking views of the city's panorama.
Delight in the city's cultural tapestry, vibrant markets, and bustling cafés in the Ribeira district. Indulge your senses in the world-famous port wine, savoured for centuries in the cellars lining the Douro River. Don't miss the contemporary masterpiece of Casa da Música or the exhibits at the Serralves Museum.
Anytime is perfect for Porto, as its charm transcends seasons. Whether you wander the streets under the gentle spring breeze or experience the autumn colours that embrace the city, Porto promises an enchanting experience.
Find the best flights to Porto, Portugal, with Lufthansa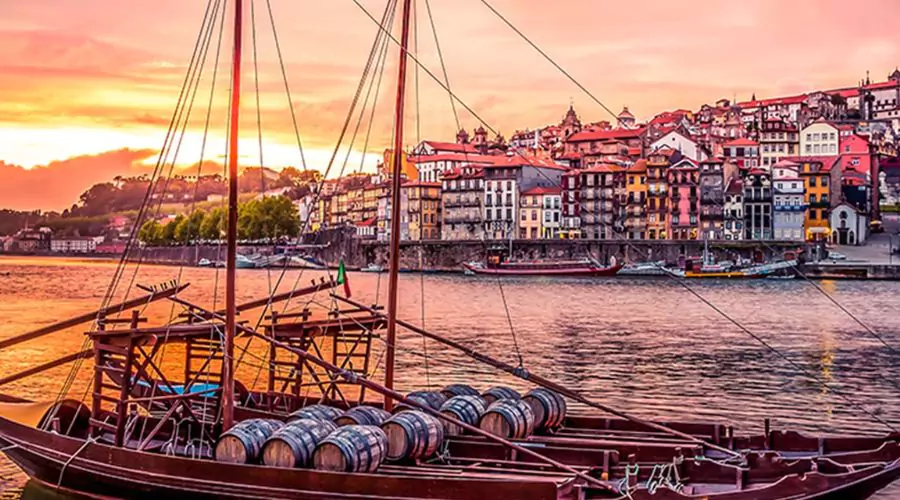 Find flights to Porto, Portugal, on Lufthansa for as low as €125, and unlock a world of wonders. Get ready to create memories that will last a lifetime as you immerse yourself in the rich history, stunning landscapes, and warm hospitality of this city. Your adventure begins here, in the heart of Porto.
With Lufthansa's flights to Porto, embark on an adventure that awakens your senses. Allow the city's captivating beauty and rich cultural heritage to captivate your soul. Whether strolling through historic streets or marvelling at architectural marvels, Porto promises an extraordinary experience that will linger in your memory. Find the best flights to Porto, Portugal, and let the enchantment begin.
Embark on an extraordinary adventure in Porto, Portugal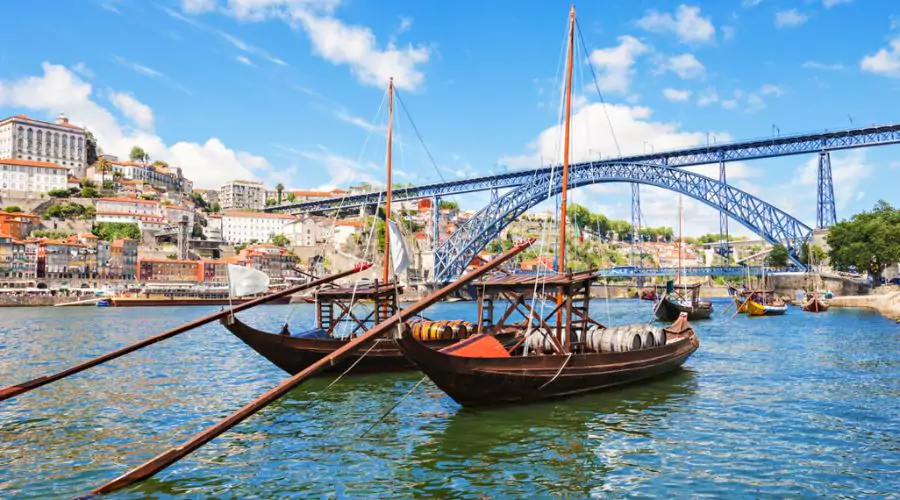 Explore the Ribeira District
Wander through the enchanting streets of the UNESCO World Heritage-listed Ribeira district, where colourful houses and lively markets transport you to a bygone era. With flights to Porto, Portugal, offered by Lufthansa, immerse yourself in this neighbourhood's vibrant atmosphere.
Marvel at the Dom Luís I Bridge
As you cross this iconic double-deck iron bridge connecting the bustling shores of Porto, a breathtaking panoramic view awaits. The meandering Douro River and the city's picturesque skyline unfold before you, inspiring a sense of wonder.
Visit the Livraria Lello
Step into a world of literary charm at the legendary Livraria Lello, often referred to as one of the most beautiful bookstores globally. Engage in its stunning architecture, intricate details, and the sense of history that permeates its hallowed halls.
Discover the Serralves Museum
Get your artistic senses at the Serralves Museum, a haven for modern and contemporary art. Let your imagination roam as you explore thought-provoking exhibitions and embrace the boundless creativity of renowned artists.
Sample Port Wine
No visit to Porto is complete without indulging in the world-renowned port wine. Embark on a wine-tasting journey in the nearby Douro Valley, where centuries-old vineyards produce this exquisite elixir. Immerse yourself in the rich flavours and learn about the winemaking process.
Essential pointers for an unforgettable journey to Porto, Portugal, by flight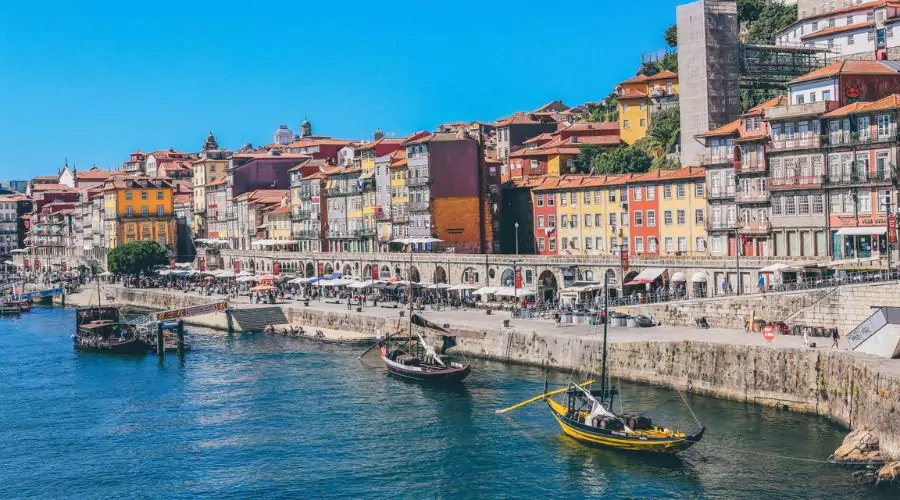 1. Plan
When booking your flights to Porto, Portugal, with Lufthansa, consider the best time to visit. Porto's mild climate makes it an appealing destination year-round, but spring and autumn often offer pleasant weather and fewer crowds.
2. Travel Documents
Before embarking on your Porto adventure, ensure that your passport is valid for at least six months beyond your intended stay. Check visa requirements based on nationality and ensure you have the documents for a smooth entry into Portugal.
3. Packing Essentials
Porto's charming streets are explored on foot, so comfortable shoes are a must. Don't forget to pack a versatile wardrobe suitable for varying weather conditions. Donning a light jacket or sweater is advantageous since the evenings can imbue a chill.
4. Currency and Payments
Portugal uses the Euro (€) as its currency. Familiarise yourself with exchange rates and consider having local currency for small purchases. Credit cards are widely accepted, but it's advisable to have cash for smaller establishments.
5. Language and Cultural Etiquette
Portuguese is the official language in Porto. Learning a few basic phrases can enhance your experience and interactions with locals. Remember to embrace the local culture, observe customary etiquette, and be respectful when visiting churches and other sacred sites.
6. Ground Transportation
Upon arrival at Porto Airport (Francisco Sá Carneiro Airport), conveniently located near the city, you can easily access the city centre via taxi, public transportation, or private transfers. Research transportation options in advance to choose the most suitable and convenient mode for your journey.
7. Local Attractions
Take advantage of Lufthansa's flights to Porto, Portugal, to explore the city's iconic landmarks, such as the Dom Luís I Bridge and Livraria Lello. Don't miss the opportunity to savour the world-famous port wine produced in this region and immerse yourself in Porto's thriving art and culture scene.
With Lufthansa's flights to Porto, Portugal, get on a journey filled with wonder. With these essential pointers, you'll ensure a seamless and unforgettable experience in this captivating city. Pack your sense of adventure and get ready to explore the cultural treasures and picturesque landscapes that await in Porto.
Conclusion
With Lufthansa's flights to Porto, Portugal, a world of enchantment awaits. Experience the enthralling charm of Porto, where the labyrinthine alleys of the Ribeira district and the architectural wonders and cultural riches astound. Immerse yourself in this city, where the past and present intertwine, and set off on a journey of incomparable wonder that will leave you utterly bewitched. Book your flights to Porto, Portugal, on Trailfollow, and let the enchantment unfold.
FAQ