No matter in which corner of the world you live, you have heard about the famous Atlantic City and its amazing casinos and beaches. The historic boardwalk and the buzzing nightlife add to the amazement of this place. Nicknamed 'mini-Vegas' and 'A.S.,' this city is still one of the go-to destinations for many people. In the United States, Atlantic City is one of the most trending destinations for vacation. Staying here is more affordable than you think. For your safety and comfort, check out the hotels in Atlantic City and improve the quality of your stay here. Go through every detail of these hotels and choose the one that suits you and your loved ones the best. Mentioned below are some of the most comfortable hotels in Atlantic City that you should check out before you visit. 
Book Your Stay at the Best Hotels in Atlantic City
Accommodation is probably the most important aspect to keep in mind while planning a trip. You can enjoy your vacation to the fullest when you are comfortable. Check out some of the best hotels in Atlantic City and keep an eye out for discounts and offers that might help you in getting a cheap stay here.
1. Hard Rock Hotel & Casino Atlantic City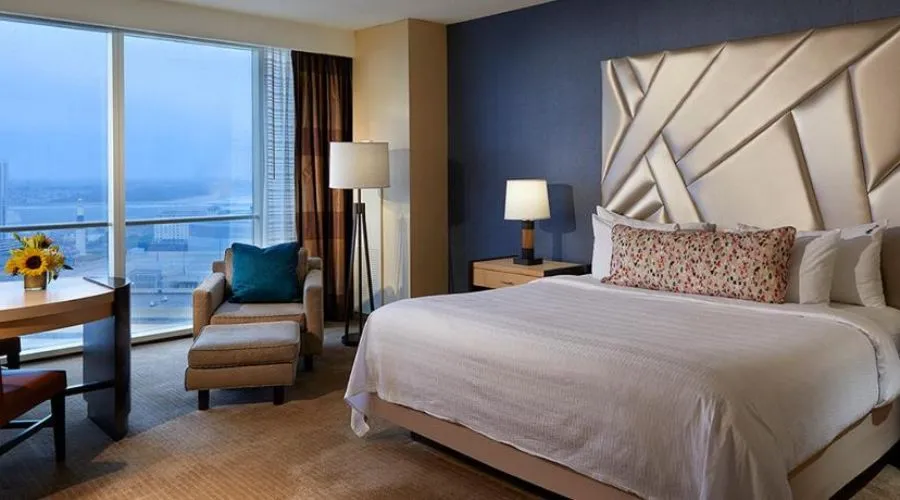 This hotel is on 1000 Boardwalk, Atlantic City Center, which gives great convenience to its guests. It is just 20 meters from the nearest public transportation, which makes traveling much easier. It is one of the most magnificent 4-star hotels in Atlantic City. It has a very high location rating. The hotel includes facilities like valet parking, an indoor swimming pool, luggage storage, and a 24-hour front desk. The staff is friendly, accommodating, and helpful. The rooms at Hard Rock Hotel & Casino include South Tower Ocean Deluxe King, South Tower Fillmore Suite, North Tower Classic, South Tower Classic 2 Queen, and South Tower Classic King. All these rooms vary in size a little and can accommodate 2 to 4 people each. Explore the delicious cuisines, the malls, and other tourist attractions near this hotel.
---
2. Ocean Casino Resort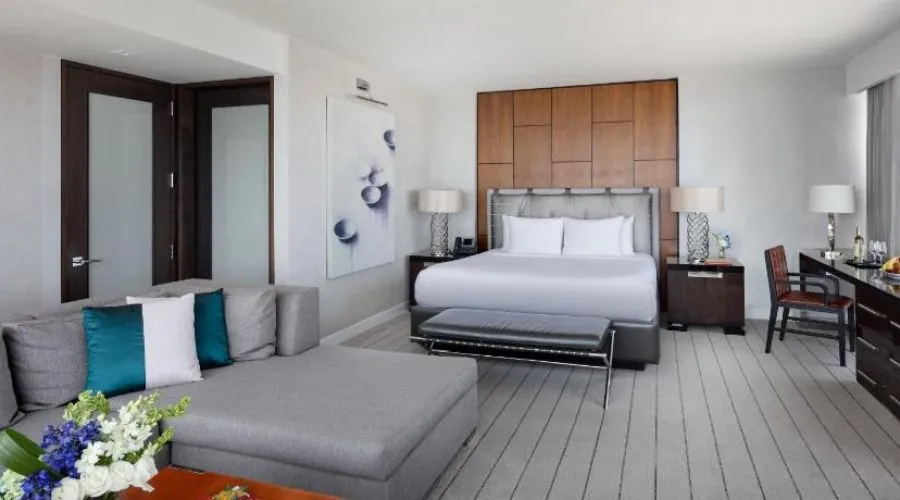 If you are here to enjoy the nightlife, you have found one of the perfect hotels in Atlantic City. It is within walking distance from the nearest public transport, making it easier for the guests to travel. This property is high in demand and has a good location and value-for-money rating. It has an indoor swimming pool, a fitness center, and a car park. The rooms available for guests here are One Bedroom Suite, King Room, Queen Room, and Deluxe Suite. All these rooms have free Wi-Fi. Some of them have a serene sea view as well. Located at 500 Boardwalk, Atlantic City Center, this hotel offers the best views out of all the hotels in Atlantic City New Jersey.
---
3. The Claridge Hotel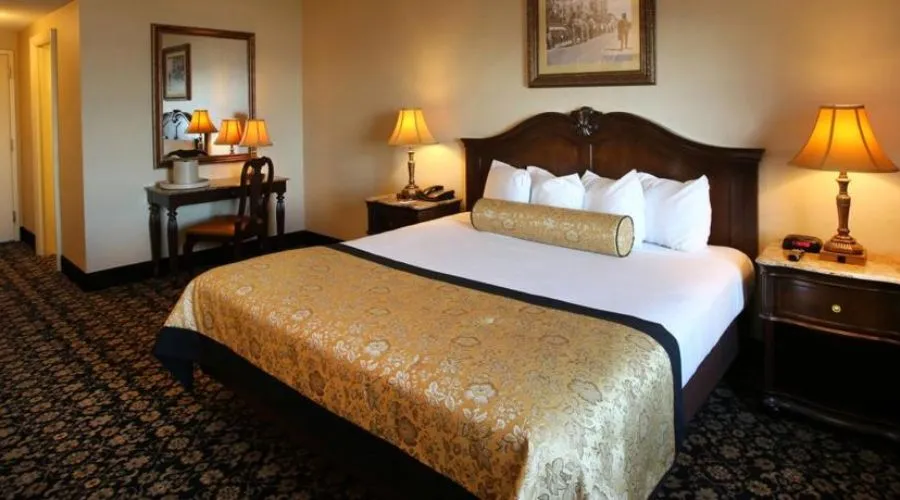 The Claridge Hotel is on 123 South Indiana Avenue, Atlantic City Center, Atlantic City. This hotel offers valet parking, luggage storage, an indoor swimming pool, a fitness center, and an impressive bar. This is a great area to talk a stroll in. This hotel is one of the closest hotels in Atlantic City NJ, to the city center. The rooms here are Double Beds and King Beds with ocean view, whirlpool Gatsby, city view, and studio suite. In addition, The Claridge Hotel also offers a honeymoon Suite which is bigger than all the rooms mentioned before. 
---
4. Harrahs Resort Atlantic City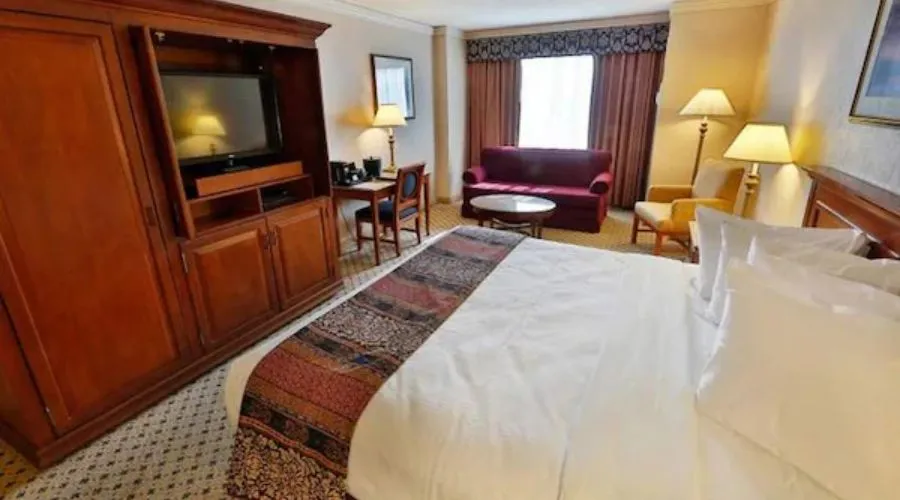 This hotel is right inside the city center, making it one of the most convenient hotels in Atlantic City. This property is on 777 Harrah's Boulevard, Venice Park, Atlantic City, NJ. It is a pet-friendly hotel and is close to numerous tourist attractions as well. The rooms are very comfortable and spacious. The types of rooms here are Two Bedroom Suites (with or without the ocean view), Luxury Waterfront Suites, and Bayview suites. All these rooms have free Wi-Fi and great views. All the rooms have top-tier facilities as well.
---
5. The Showboat Hotel Atlantic City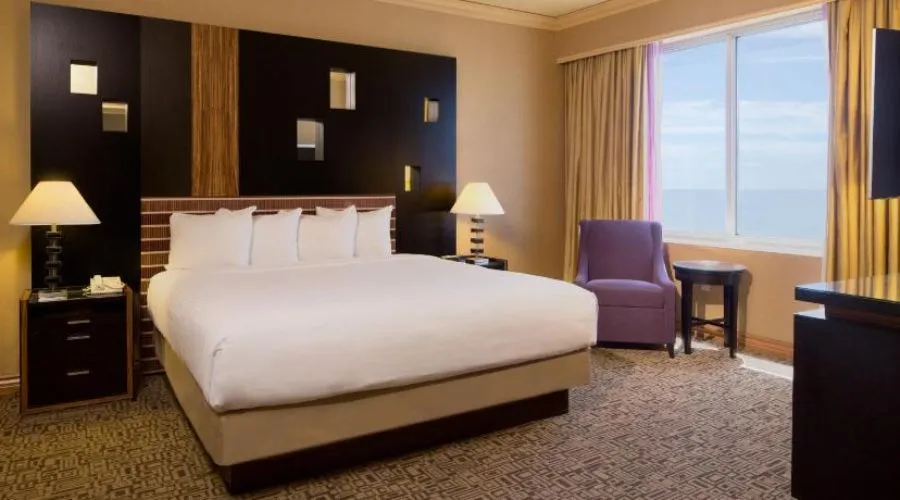 Booking your accommodation at one of the top hotels in Atlantic City, like this one, would be a great start to your trip. The Showboat Hotel is at 801 Boardwalk, Atlantic City Center. This hotel has some excellent views and is a clean and hygienic place. It has an outdoor swimming pool, valet parking, and a fitness center, and it is a pet-friendly place. The magnificent rooms offered here are Bourbon Towers with Balcony Suite, Standard King, Standard Double Queen, or Junior Suite. It is close to attractions like the Trump Taj Mahal, Hard Rock Casino, and Atlantic City Historical Museum. Stay at The Showboat Hotel, one of the top hotels in Atlantic City.
Also Read: Discover The World With Travel Republic: Your Ultimate Travel Companion
Conclusion
Enjoy your vacation to Atlantic City to the fullest and make the memories of a lifetime. Explore the first Boardwalk built in America in this city. The beaches here are magnificent and give a relaxing and calm vibe. Visit this dazzling city and book your accommodation at good hotels in Atlantic City. From the Trailfollow website, you can get tips for everything travel related. Read first-hand experiences and get every information from flights to hotels on this website.
FAQs