Coshocton is located in the foothills of East Central Ohio, offering the area easy access to spectacular and scenic vistas of nature's treasures. Coshocton is also well-known for its "small town" feel. The 200-year-old village is famous for its numerous well-preserved historical sites. It also has a thriving commercial business that emphasizes American-made goods.
Its numerous world-class tourist attractions make it a popular site to visit. Ahead are some of the best hotels in Coshocton Ohio, to stay during your vacation in this area.
Top hotels in Coshocton Ohio
1. Coshocton Village Inn and Suites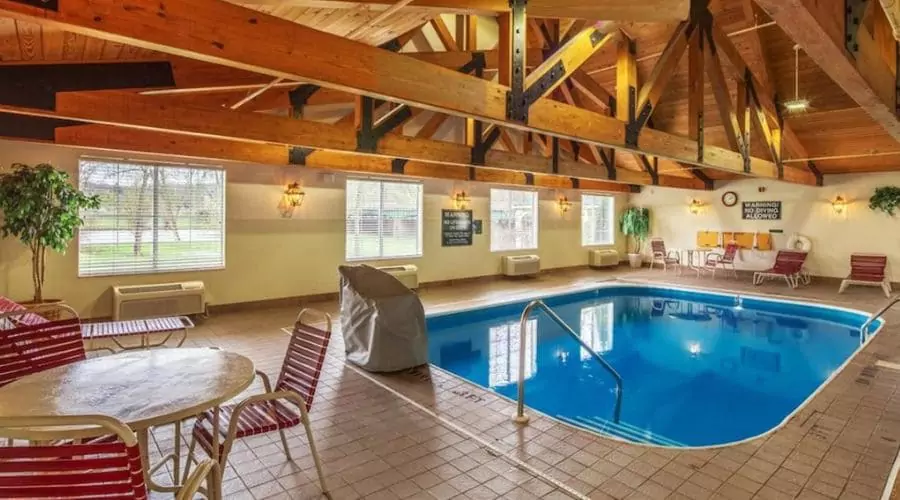 The Coshocton Village Hotel and Suites are in Coshocton. Old Roscoe Village and Gospel Hill Ministry Lighthouse are notable sites in the vicinity, while those interested in culture might visit Johnson Humrickhouse Museum. Also, go for Clary Gardens as they are worth visiting. All its 64 rooms include air conditioning and other conveniences such as free WiFi. The clean, pleasant rooms at the resort receive high comments from guests. It is one of the well-known hotels in Coshocton Ohio.
2. Super 8 by Wyndham Coshocton Roscoe Village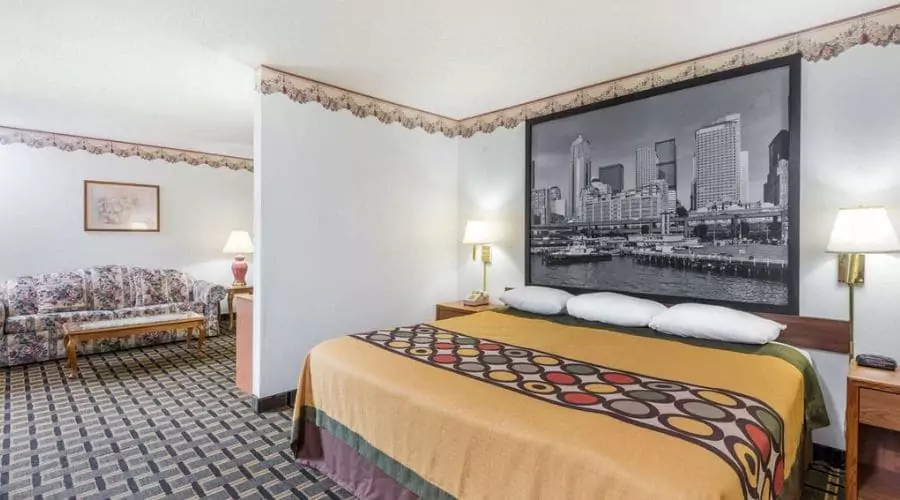 This one of the cheap hotels in Coshocton Ohio is in a neighborhood of Coshocton. You can see the natural splendor in Lake Park and the Mohican River. The cultural highlights include the Walhonding Valley Historical Society Museum and the Longaberger Basket Factory/Homestead.
Wyndham Super 8 Hotels Coshocton Roscoe Village offers visitors a free-breakfast and other amenities. Also, you can connect to free WiFi in your rooms. An indoor pool, a 2-hour front desk, and self-parking are the additional perks visitors can enjoy here.
---
3. The Inn at Dresden
Dresden is home to the Inn at Dresden. Dillon State Park and Ellis Dam-Lock No. 11 showcase the area's natural splendor, while Tom's Ice Cream Bowl and Dr. Increase Mathews House Museum & Gardens are the nearby attractions. The Hotel at Dresden offers complimentary breakfast, a balcony, and a garden. You can also enjoy the hot tub for some relaxation. In addition to a business center, guests can access free WiFi in their rooms. Free extended and self-parking, an electric car charging station, luggage storage, wedding services, a computer station, barbeque grills, and smoke-free premises are other perks for the visitors of this hotel.
---
4. Downtown motel
Downtown Motel houses in the rural Coshocton. Its surrounding sights include Historic Roscoe Village and the Walhonding Valley Historical Society Museum. You can also enjoy some of the activities of this area at Raven's Glenn Winery and Yellow Butterfly Winery. Make the most of the chance to visit this location for outdoor adventures, such as eco-tours. This hotel is among the well-known scenic view hotels in Coshocton Ohio.
---
5. Deer Creek Luxury Cabin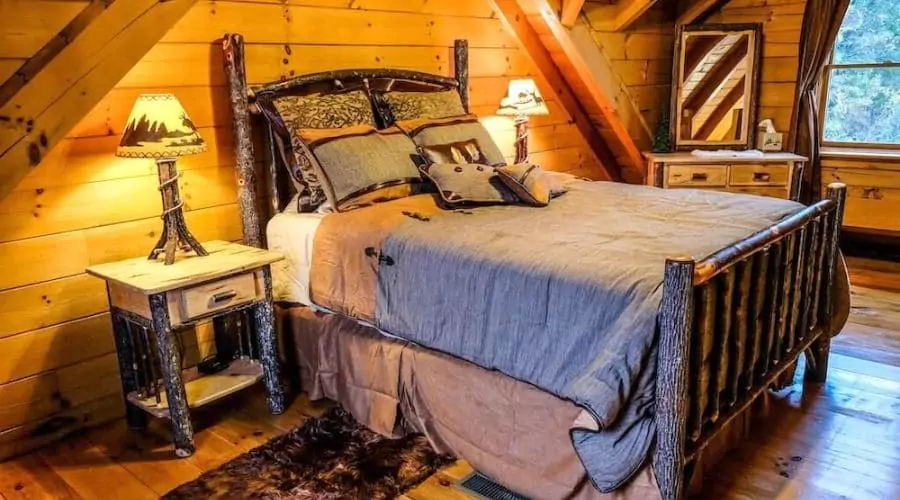 This high-end cabin has a gorgeous country setting on 4 acres, luxury bedroom suites, and thoughtful touches. You can relax in the hot tub while admiring the scenery from the log cabin deck or sip coffee on the front porch's hickory rocking chairs. The family-friendly area can comfortably accommodate 11 members, although the property welcomes larger families too! The expansive lawn is ideal for outdoor gaming, tent camping, and spending quality time over the campfire.
---
6. Cheerful cabin with a cozy indoor fireplace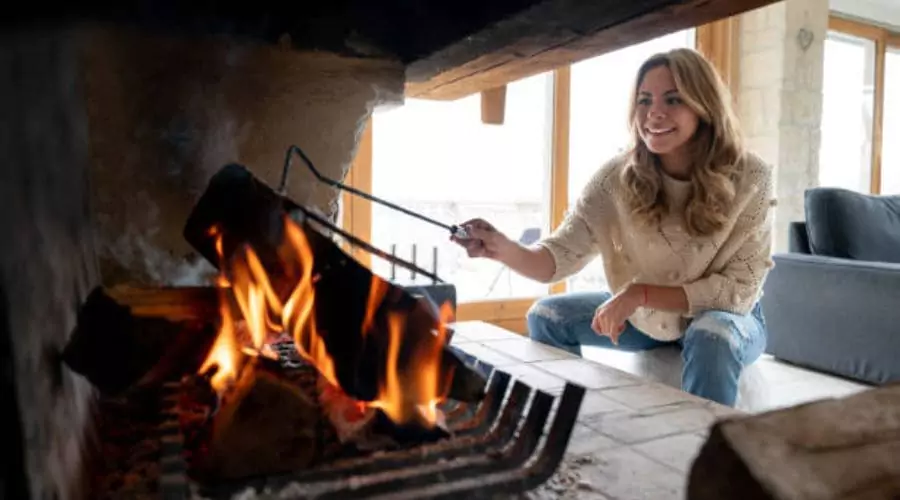 This cabin has everything you need for a super-comfy break. There are numerous excellent restaurants and shopping opportunities within a short distance, with beautiful scenery with surrounding wildlife. This cabin's air-conditioned accommodations have fireplaces and coffee/tea machines. These also include dining tables, sofa beds, and kitchen. Refrigerators, microwaves, stovetops, and cookware/dishes/utensils are available in kitchens. Additionally, visitors can use the complimentary wireless Internet access to surf the web. In-room smart televisions are also available.
---
7. Roscoe Motor Inn
The Roscoe Motor Inn in Coshocton has Historic Roscoe Village and the Walhonding Valley Historical Society Museum as nearby sights. It has a balcony and many other amenities. Additional benefits of staying at this motel include free WiFi and self-parking, barbeque grills, a 24-hour front desk, etc. All 15 rooms of the property have air conditioning and other conveniences, including free WiFi. The spacious rooms at the resort have received positive feedback from guests. These rooms also have shower/tub combinations in bathrooms and premium-channel televisions. It is one of the most beautiful hotels in Coshocton Ohio.
---
8. Genevieve's Place in Historic Roscoe Village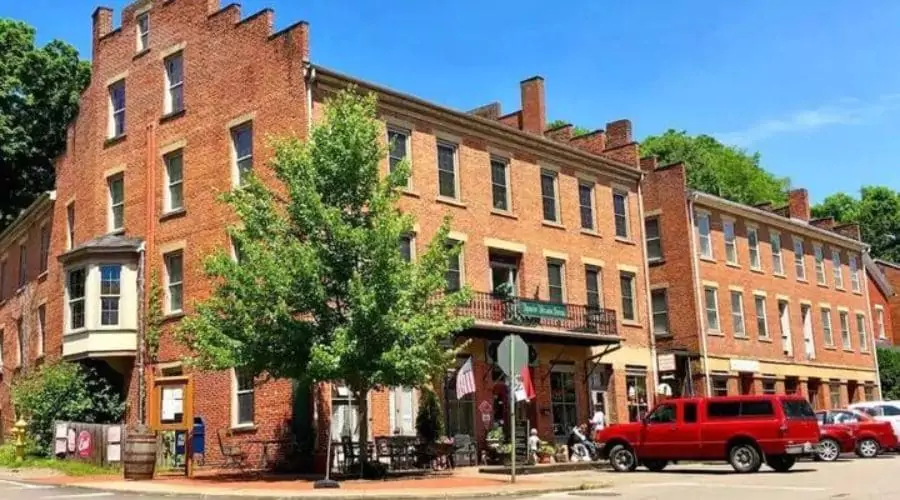 This 1860s canal-era building has a rich history; it was initially built as a hotel on the second and third floors, with a pharmacy and dry goods store on the ground floor. However, a full kitchen, full bathroom, living area, and two bedrooms, one with a queen size bed and the other with two twin beds, are now available. The unit features Direct TV and high-speed internet access. This beautiful third-floor apartment is in the middle of Historic Roscoe Village, just minutes from shopping, restaurants, and two fantastic pubs. Guests can also use the Coin Operated Laundry on the second floor of the building. Roscoe Village is a walkable neighborhood; once you've parked, you won't need a car to tour the entire village. The Airbnb and apartment visitors can use a gravel parking lot behind the building. Once you've booked, the host will email you an aerial view of the building and parking lot for reference. It is one of the best historic hotels in Coshocton Ohio.
---
9. The Pines of Dresden B&B
The Pines of Dresden B&B is in rural Dresden. Zanesville Museum of Art and Longaberger Basket Factory/Homestead are historical highlights. Prospect Place and Y Bridge are landmarks in the neighborhood. The guests love the tranquil setting of the bed and breakfast of this property. You can consider staying at The Pines of Dresden B&B, offering a free breakfast, a terrace, and a garden. All visitors have access to free WiFi in their rooms and a library.
All accommodations of this property are distinctively decorated and provide amenities like fireplaces and air conditioning, as well as complimentary WiFi and drinking water.
---
Conclusion
Coshocton has everything you're searching for, from historical tours to excellent dining. It will take more than a weekend to see everything Coshocton offers. Thus, the article covers the top hotels in Coshocton Ohio, to help you choose the best hotel in Coshocton Ohio, suitable for your stay. For more information visit the official website of Trailfollow.
FAQ's