Here is many Best Places To Stay In Amsterdam. The capital of the Netherlands, Amsterdam, is renowned for its historical landmarks, outstanding art collections, and the distinct colour and flavor of its ancient neighborhoods that have been so carefully preserved. Amsterdam is a well-liked city with a lot to offer, known for its lovely canals, outstanding culture, and rich history. If you want to be inspired by Amsterdam, this is the place to go for beauty, exquisite art, and entertainment.  There are numerous accommodations scattered throughout Amsterdam that can enhance your stay in the city, but depending on your needs and desires, here are some of the best places to stay in Amsterdam that are popular on various travel portals.
Enjoy Your Stay in Amsterdam With the Best Hotels
Here are some of the best reviewed and best places to stay in Amsterdam, Netherlands, as rated on the Agoda website, based solely on location and the best reviews.
1. DoubleTree by Hilton Amsterdam Centraal Station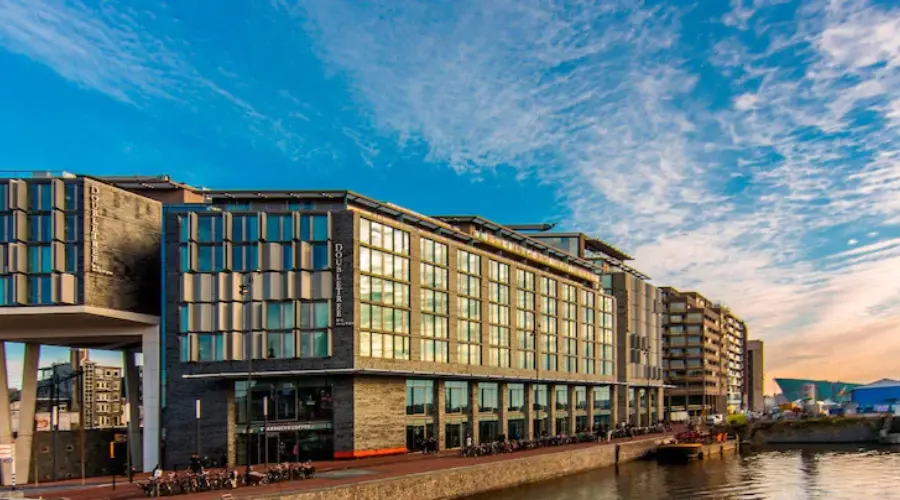 DoubleTree by Hilton is only a five-minute walk from Centraal Station. You can explore Amsterdam on foot, by bike, or by tram. The Museumplein is a 15-minute tram ride away, and the hotel is only a kilometer from Dam Square, the Royal Palace, and Haarlemmerdijk shopping. Enjoy panoramic views of the city and canals from the floor-to-ceiling windows at the rooftop lounge. They offer excellent dining options as well as free WiFi in all of their accommodations. One of the hotels in the city with the best locations also boasts really positive reviews on the Agoda website and is often reviewed by travelers as one of the best places to stay in Amsterdam.
---
Also Read: Best Hotels In The Bahamas- Best Beautiful Resorts to Visit
---
2. NH Collection Amsterdam Barbizon Palace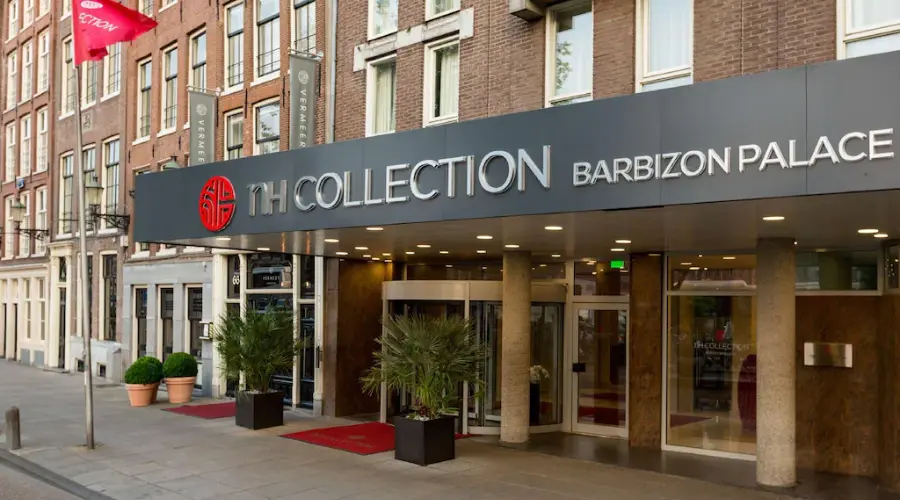 Right in the heart of Amsterdam is the NH Collection Amsterdam Barbizon Palace hotel. It is close to stores, museums, and the main train station. The structure itself, which was constructed in the 17th century, is also noteworthy. The Royal Palace is 5 minutes away by foot, while the Van Gogh Museum is 10 minutes away by tram. The hotel is beside Amsterdam Central Station, has regular trains to and from the airport, and has rooms dispersed among a number of 17th-century residences. Family-friendly accommodations include connecting rooms and apartments with large, comfortable rooms with climate control and lovely city views from several of the rooms. Dining in the hotel also features a Michelin-starred restaurant called Vermeer, along with other dining restaurants and bars. considered an experience in itself, and there is no doubt it is considered one of the best places to stay in Amsterdam.
---
3. Hyatt Regency Amsterdam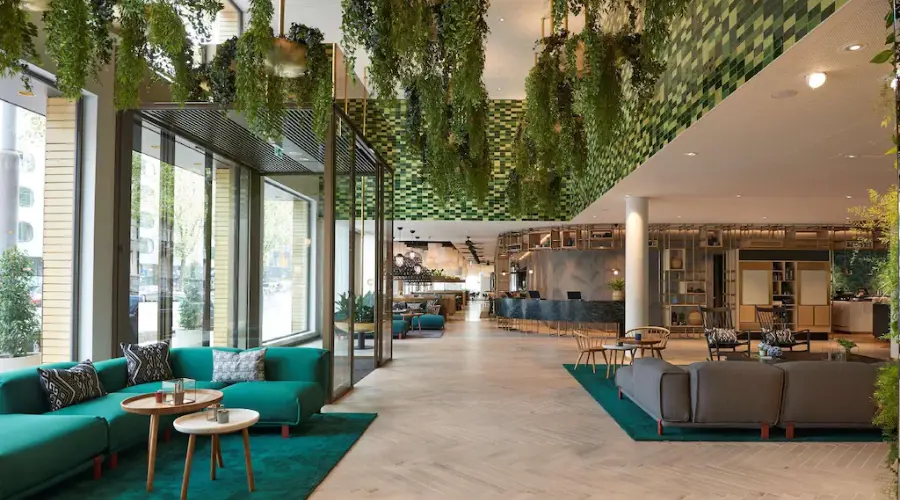 The Hyatt Regency Amsterdam is known for its energizing sustainable "living" decor and boasts spacious, botanically inspired bedrooms, calm common areas, a 24-hour fitness centre, and Mama Makan Indonesian Restaurant, Bar, and Terrace. The dynamic hotel, which is centrally located and borders the trendy East neighbourhood, seamlessly links work and play and the urban and natural worlds. Located in central Amsterdam, it is close to different attractions and sights and has often been rated as one of the best places to stay in Amsterdam.
---
4. Amsterdam's Anantara Grand Hotel Krasnapolsky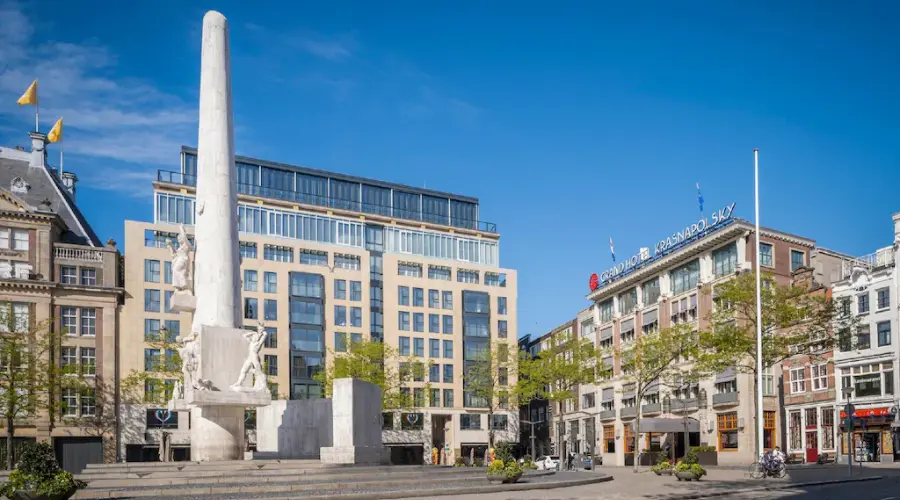 The 1855-built Anantara Grand Hotel Krasnapolsky Amsterdam is situated in the heart of Amsterdam with views of the busy Dam Square and a 15-minute tram ride to the Museum Quarter. Each of the hotel's 402 guest rooms features a sleek, natural colour palette and modern furnishings. Additionally, several of the rooms have parquet flooring, which adds a vintage touch. Every accommodation has a modern en-suite bathroom, and those staying in the Presidential Suite can unwind in their own private Jacuzzi for a while. You can enjoy breakfast in the lovely Wintergarden, which is a room that is flooded with natural light from the glass ceiling and the hotel structure, which dates back to 1855. This hotel, located in the heart of Amsterdam, has received rave reviews for its location, elegance, and history, and is considered one of the best places to stay in Amsterdam by some travellers.
---
5. Amsterdam Kimpton De Witt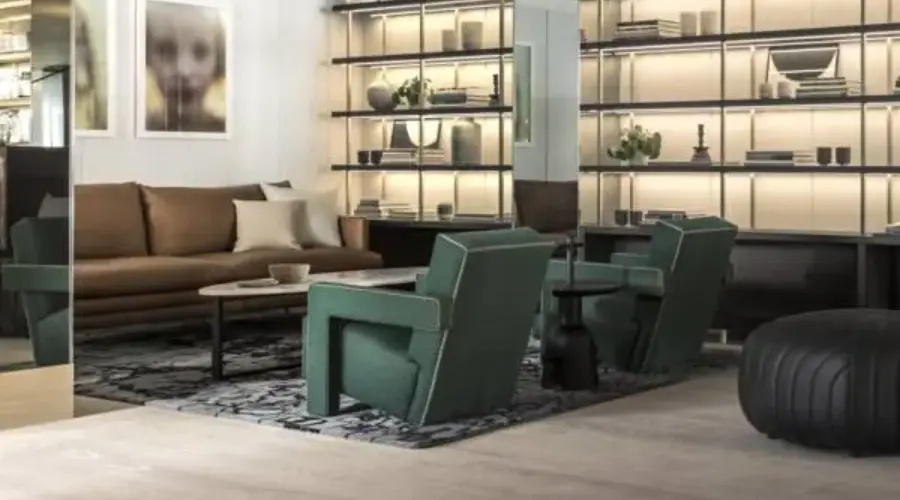 The Kimpton De Witt hotel, located in the bustling city centre of Amsterdam, encourages you to imagine, explore, create, and discover a relaxing spot. Consider it your personal refuge, with its unique charm and genuine service.  They encourage you to live locally, as they do. Their fascinating City Center site promotes Dutch culture, art, and contemporary urban energy while having one foot in Amsterdam's illustrious past and the other in its booming present. They offer wi-fi and conference space in case you were delayed at work while in the city, as well as a variety of multi-cuisine eateries to satisfy your needs for food. The hotel enjoys a good review on the site and is loved by the travellers, thus making it one of the best places to stay in Amsterdam.
---
6. Amsterdam City Centre Radisson Blu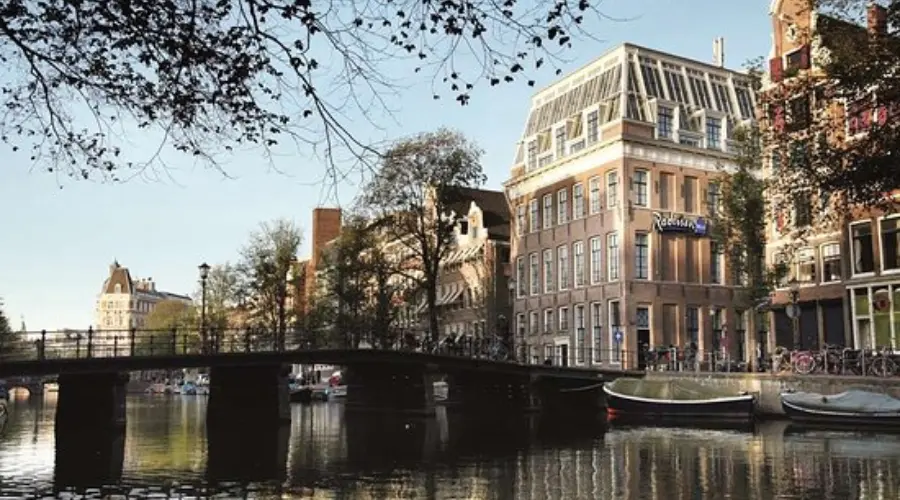 The Radisson Blu Hotel, Amsterdam City Center, successfully blends the ancient with the new. It's a heritage property that combines 18th-century merchant houses, a former paper mill, and a 19th-century vicarage, all connected with modern design after entering via the light and airy lobby atrium. 252 guest rooms and suites are available, with two different design themes: Naturally Cool and Golden Age. Their services include a fitness centre, a sauna, digital reading material, and a number of concierge services. The hotel is completely accessible. At Restaurant De Palmboom, indulge in delectable organic meals and regional delicacies. This hotel, though, only accepts cashless and contactless payments through cards. It is a symbolic hotel in the city and is usually well reviewed on the Agoda site, thus making it one of the best places to stay in Amsterdam.
---
Conclusion
One of the best places in the world to visit is Amsterdam, which is also blessed with some of the chicest homes in the world that blend the best of the past with the present. Your visit to the city will be a delectable experience when combined with some of the top restaurants in the world with Michelin stars.You can make your selection from Adobe, or you can consult the TrailFollow accommodation guide.
FAQ's