Just five miles south of Monterey City on Highway 1, there is a lovely beachfront town called Carmel-by-the-Sea, or more commonly just Carmel. Small yet well-constructed, this stylish town is great for leisurely beach days and strolls along the coast, and fine dining and upscale boutique shopping. Dog lovers will also find it a pet-friendly paradise, as many accommodations welcome four-legged visitors. The range of lodging options includes everything from basic B&B to a lavish luxury hotel in Carmel. While the best place to stay in top hotels in Carmel offers breathtaking views of the Pacific Ocean, some of our personal favorites are in the heart of the city. Continue reading to know more about the best hotels in Carmel CA. 
What are Some of The Best Hotel in Carmel? 
1. Tradewinds Carmel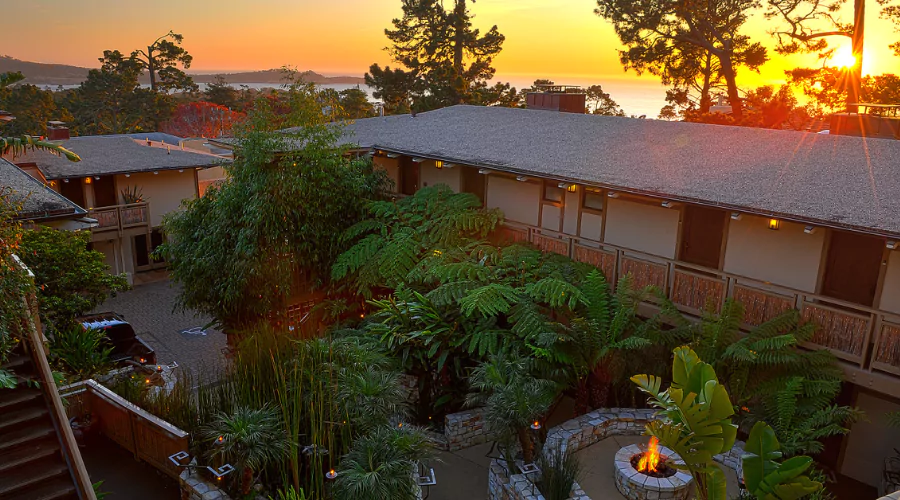 The luxurious, award-winning Tradewinds Carmel features spacious beds and breathtaking sea views. Get away together as a couple or bring the family and make your base in the roomy bedrooms with roaring fires. This hotel in Carmel stands out because it collects Chinese and Bali antiques and Balinese kimonos. The peaceful neighborhood setting is perfect for unwinding, family-friendly, ideal for pets, and a delightful boutique getaway for lovers. The Japanese tansu wet bar in your suite is a great place to unwind before bed. Put on a kimono robe and do nothing while lounging in front of the warm fireplace, or soak your worries away in the jacuzzi tub.
---
Also Read: Best Hotels in Big Sur
---
2. La Playa Hotel
The grand dame of Carmel's hotel scene is La Playa Hotel. Consider elegant bedrooms in cream and white with breathtaking views of the ocean. This historic seaside hotel, set amid well-kept gardens, boasts Mediterranean architecture, delectable cuisine, and a feeling of elegant richness. The sparkling breakfasts are special, making it the best hotels in Carmel. Outside your suite, there is a wealth of inspiration in the form of the sea's sights and noises that will lull you to sleep. You are sure to have a wonderful idea when you wake up. If you chose the spacious Poolside Casita, which appears to be built to hold a flood of unbridled talent, you will be happy.
---
3. Carmel Bay View Inn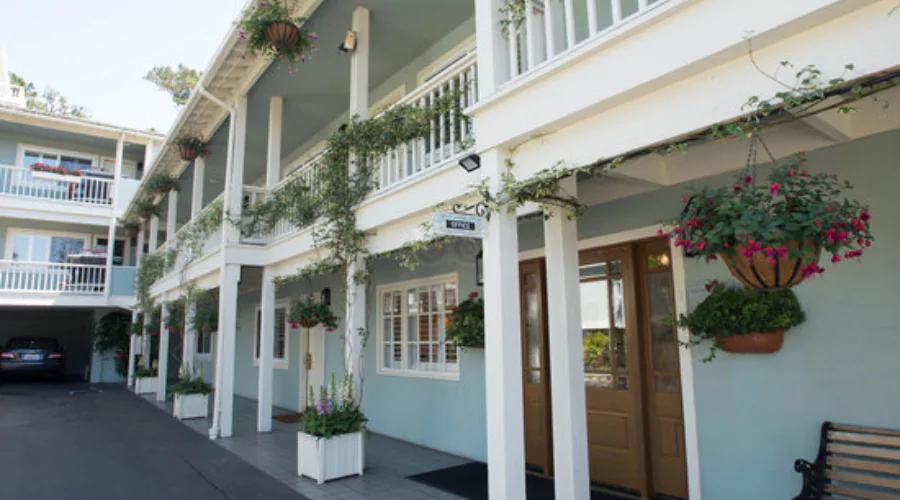 Budget-conscious guests will not hesitate to stay at Carmel Bay View Inn. If you are a golfer, you will undoubtedly feel like treating yourself to a game at the Pebble Beach Course because it is surprisingly reasonable for such a chic boutique top hotels in Carmel. Every morning, free breakfast and all-day coffee or tea are provided in the opulently carpeted, designed rooms. The Pacific Ocean views, on the other hand, are free and provide you with a piece of heaven from sunrise to sunset.
---
4. Carmel Valley
The opulent and expansive Carmel Valley Ranch is situated on 500 acres in the heart of Carmel Valley, tucked away in the foothills of the Santa Lucia mountains. It has 177 roomy guest suites, the forest Spa Aiyana, Valley Kitchen restaurant and bar, three hot tubs, and an 18-hole Pete Dye golf course. The hotel's River Ranch activity center is one of its best attractions. It provides many events for adults and children, including guided off-road trips, bird viewing, beekeeping, making honey candles, and creating lavender flower crows.
---
Also Read: Discover the Finest Hotels in Waikiki for an Unforgettable Stay
---
5. Cypress Inn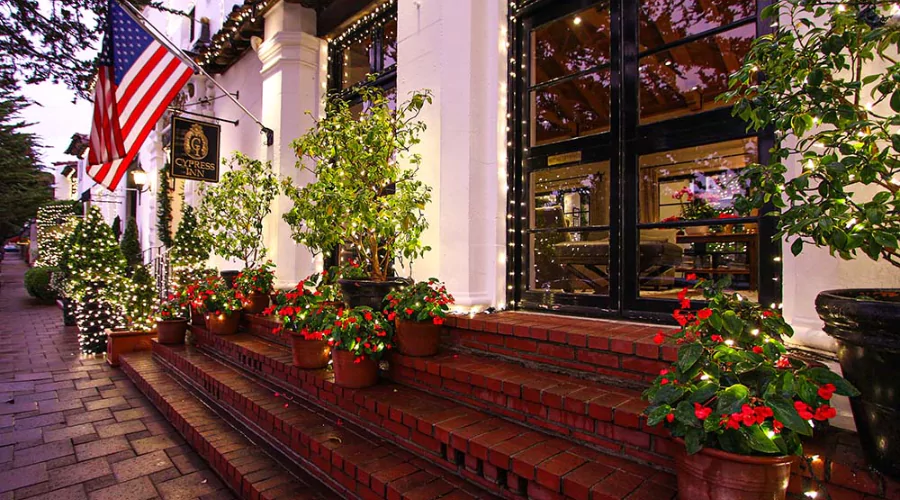 Your pet is invited to stay with you at the 44 serene, Mediterranean-inspired suites of the Spanish colonial Cypress Inn, which features plush linens and complimentary cream sherry. Watching the crowds let their pets run free on Carmel Beach is one of the best things to do in Carmel-by-the-Sea, which is famed for its animal-loving mentality. Of course, the staff here has not neglected the human visitors; each morning, a sumptuous buffet-style breakfast is served, and Terry's Restaurant + Lounge pours a seriously potent Rum Zombie for anyone who has been a good boy or girl.
---
6. L'Auberge Carmel
You may learn everything you want to know about this luxury inn with a European design from the Relais & Châteaux placard. Custom textiles, authentic antiques, and hand-carved canopied beds can be found in recently restored rooms. The inn's restaurant, Aubergine, is a popular dining establishment that has won praise from critics and customers alike for its creative tasting menu that uses local delicacies including locally grown seaweed. Additionally helpful is a wine cellar with 2,500 bottles. So it should come as no surprise that the complementary breakfast, which includes house-made pastries, local coffee, and eggs cooked to your preferences, is a highlight.
---
7. The Vagabond's House Boutique Inn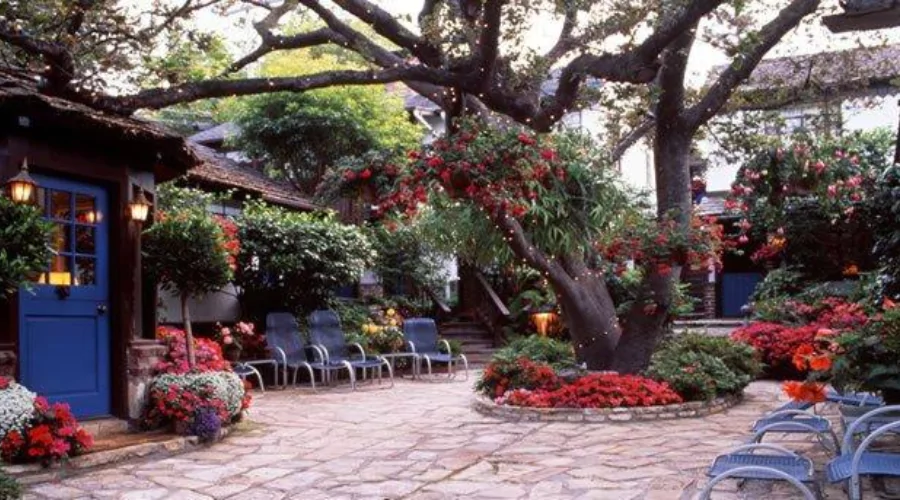 This English Tudor-style inn offers the best of both worlds. Cozy, modern rooms have handmade leather furniture, luxurious beds, and fireplaces. Spa-like restrooms with soaking tubs and heated tile flooring are seen when enormous barn doors slide open. In the stone courtyard's lit-up nights, visitors congregate around a fire pit for free wine and cheese. The inn is one of the few that provide breakfast in bed, delivering a tray of high-quality breakfast items to your room each morning, including soft-boiled eggs, croissants, and fruit from the neighborhood farmers' market.
---
The Bottom Line
The town's natural beauty is pure Central California Coast, with mild temps, soaring cypress trees, and a long stretch of white sand beach reachable at the end of Ocean Avenue. The downtown area is dotted with an upscale hotel in Carmel, shops, and eateries. You can refer to the Trail follow website to know more about the best hotel in Carmel. 
FAQs