Mykonos, with its renowned clubs and evocative bars, is well-known for its exhilarating nightlife and wild celebrations. It contains one of Greece's most developed islands and welcomes thousands of party-only visitors each year. It also provides elegance, history, fine dining, dazzling shores, and interesting tours and activities. Mykonos is a popular island-hopping destination because of its location.
The atmosphere on the beaches of Mykonos is distinctive and unlike any other beach, you may have visited. The beach bars keep the party going with nonstop music and dancing, cool drinks, and wacky concoctions in outdoor gatherings right next to the splash of the waves. You can participate in any water-related activity at the same time, including thrilling water sports, scuba diving, cruises to surrounding beaches, or even trips to adjacent islands. Despite being so well-known, Mykonos has quiet areas that are perfect for a quiet vacation, making your exploration plans there seem successful.
These places have rave reviews and are often rated by fellow travellers in Agoda as some of the
best hotels in Mykonos.
1. Tranquil Stay
Despite all the hustle, there are places in Mycons Greece that offer you a quiet, peaceful stay. They are not that loud and offer every other adventure that Mykonos is known for, minus the noise. Here are some of those places in which the best hotel in Greece Mykonos, are located.
---
Also Read: The 4 Best Hotels in St Lucia Island, Caribbean Sea
---
2. Eternal Suits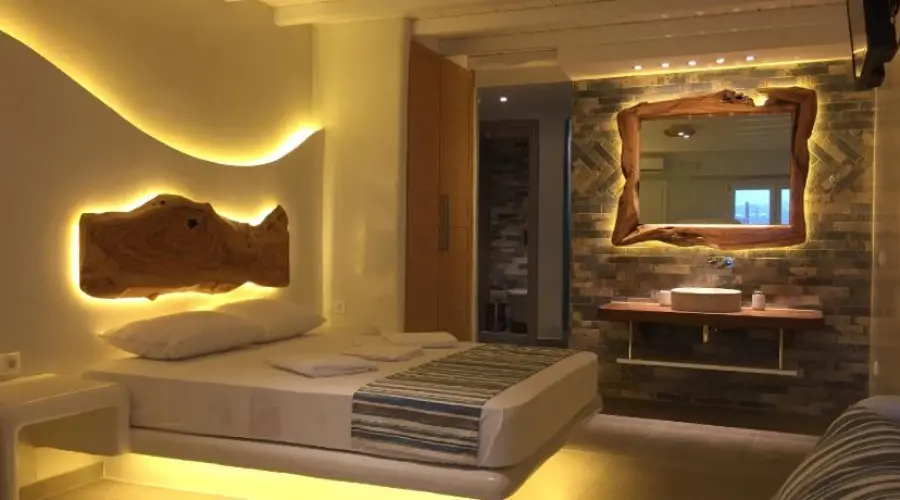 The "Eternal Suites" is a location that provides you with a memorable stay in Mykonos Town while exuding a friendly ambience via the island's charm. Most of the rooms and suites have views of the sea and Mykonos Town. It is a family-friendly neighbourhood with all the conveniences you could want, with air conditioning, free Wi-Fi, and safe deposit boxes. 
The area around the School of Fine Arts in Mykonos Town is where you can find "Eternal Suites." It is conveniently situated above the old perimeter street of Mykonos Town, next to the old port and the port of Delos, and just 200 metres from the central bus station in Fabrica Square. It is only five minutes from the town's centre, and it takes seven minutes to get to the closest beaches. It has rave reviews on the Agoda site and is often considered one of the best hotels in Mykonos.
---
3. Myconian Korali Relais and Chateaux
The best of both worlds may be found at Korali Relais & Châteaux. It is a sought-after retreat just minutes from the Little Venice cafés, shops, tavernas, and renownedly seductive nightlife of Mykonos Town. It is located on the hills above the old harbour. The most distinguishing aspect of Korali may be "Baos", an unrivalled fine dining restaurant that hovers effortlessly over the renowned view. Luxurious rooms and suites are private spheres of unsurpassed comfort, leading onto covered terraces flaunting huge pools or Jacuzzis. Considered one of the best hotels in Mykonos, no doubt that it lives up to its expectation.
---
Also Read: 5 Places to Visit in Southampton When You're Stressed Out
---
4. Mykonos Moussa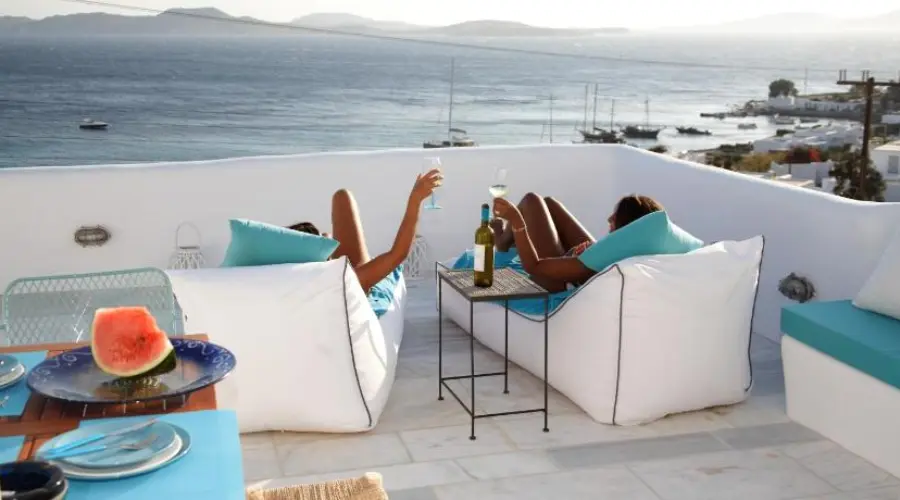 The Mykonos Moussa is a luxurious hotel in the Agio Ioannis area of Mykonos. Nearby attractions include the Aegean Maritime Museum, Parthenis, Agili, etc. The national airport on Mykonos Island is the closest. Additionally, they have a private beach, which makes staying at their hotel more private and comfortable. It enjoys exceptional reviews on the website and is considered to be one of the best hotels in Mykonos Greece.
---
5. Dionysos Hotel Mykonos
You can discover Mykonos' culture and hospitality, its breathtaking emerald-blue waves, and the gorgeous sunsets while taking advantage of a tranquil setting and top-notch services. The Hotel Dionysos, which has 25 lovely rooms and suites and is conveniently located 50 metres from the Ornos beach in the centre of Mykonos, offers unbeatable comfort. The rooms and suites combine contemporary conveniences with traditional and soothing décor, ensuring that you have an unforgettable vacation on the island. It also serves the best cocktail by the pool while also offering some of the best multi-cuisine foods in its restaurants. It also has an elegant spa that offers luxurious massages making your trip to the island memorable. It is thus considered one of the best hotels in Mykonos.
---
6. In Centre
Apart from places that are luxurious and offer tranquillity, some places are in the centre of Mykos and vibe positively with the city. Here are some of the best hotels in Mykonos that match the rhyme of the city.
---
7. Paola's Town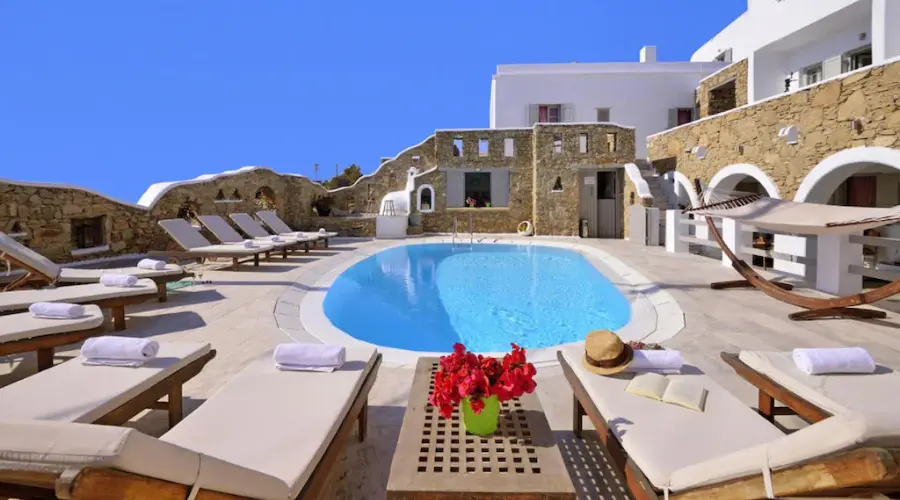 Less than a two-minute drive from Mykonos' main town, Paola's Town Boutique Hotel assists you in discovering a delightful getaway that artfully combines the light, airy Cycladic environment with contemporary furnishings and minimalist architecture. Everything about the accommodations—soft beds, modern amenities, and tastefully adorned walls is a blend of traditional and modern art. The attractive pool will cool you down, and the pool bar will satisfy your senses with a well-thought-out affair of refreshing drinks and light bites. Near the Mykonos Island National Airport, it is reviewed highly on the site and is considered one of the best hotels in Mykonos.
---
8. Villa Varnali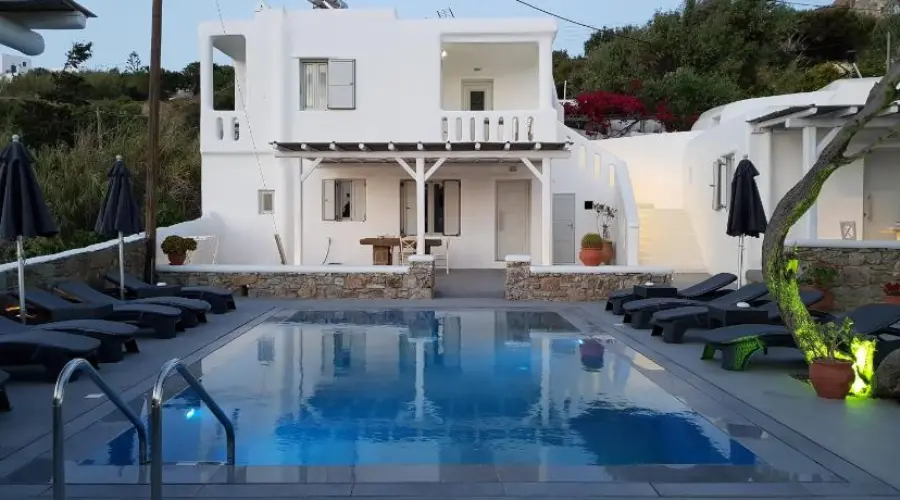 The distance between Little Venice and Villa Varnali is 10 minutes on foot, Little Venice is 3.7 km away, and Glam Club is 1.1 km away. The inn has room service, an indoor pool, and an outdoor pool, including a separate bathroom. A few of the well-liked attractions close to Villa Varnali Small Boutique are Mykonos Windmills, Korfos Beach, and Agia Anna Beach. Mykonos Airport is 2.4 kilometres from the lodging. It has a positive review on the website, making it one of the best hotels in Mykonos.
---
Conclusion
Few places can rival the energising atmosphere that descends upon the island of Mykonos in the evening, whether it is on the seaside verandas of Little Venice, in cosmopolitan taverns and gourmet restaurants facing the recognizable windmills, or at lavish nightclubs and glitzy beach parties. You can thus choose your accommodation from Agoda or from the capacities listed in the Trail Follow.
FAQ's